The Spiders' Webs' Link of the Month



Apply your site to be the next Spiders' Webs' LInk of the Month!

If your site is choosen as Link of the Month I will send you the following picture to post wherever you wish on your site. Good Luck!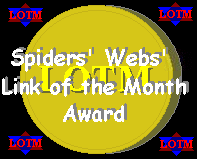 Spider-Man, Spider-Man 2099, Spider-Man Unlimited, Spider-Girl (click here for semi-complete list of characters) and all other characters mentioned on this site and their distinctive liknesses thereof are Trademarks of Marvel Characters, Inc. and are used with permission.
Copyright 2001 Marvel Characters, Inc. All Rights Reserved.