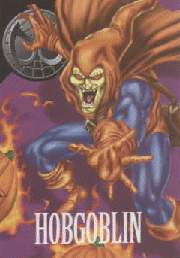 Hobgoblin -

---
Real Name: Jason Philip Macendale
Aliases: Hobgoblin
First Appearance:(As Hobgoblin) Hobgoblin Part 1 Episode 11, Season 1. (As Jason Philp Macendale) Rocket Racer Episode 5, Season 3.
Special Powers: Goblin glider, Pumpkin bombs, and other gadgets invented by Norman Osborn.
Origin: The Hobgoblin was originally hired by Norman Osborn to destroy the Kingpin of crime, Wilson Fisk.
Notes: Jason Philip Macendale was briefly engaged to Felcia Hardy.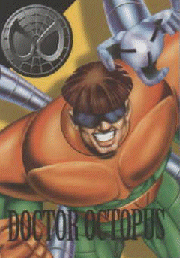 Doctor Octopus -

---
Real Name: Doctor Otto Octavius
Aliases: Doctor Octopus
First Appearance: Doctor Octopus: Armed and Dangerous Episode 6, Season 1
Special Powers: Metallic arms wielded to his spine in a lab accident, Scientfic intellect.
Origin: Doctor Otto Octavius's life's work was to create a new compact energy source. He worked hard on his creation, but not quickly enough for his funders, the Hardy's, his research grants were cut and he was forced to finish his work in an apartment basement lab. An explosion occured and without vital safety gaurds the heat melted the metallic arms Octavius used for his experiments to his spine.
Notes: Doctor Octopus was once a member of the Insidious Six.


Spider-Man, Spider-Man 2099, Spider-Man Unlimited, Spider-Girl (click here for semi-complete list of characters) and all other characters mentioned on this site and their distinctive liknesses thereof are Trademarks of Marvel Characters, Inc. and are used with permission.
Copyright 2001 Marvel Characters, Inc. All Rights Reserved.